Nordic Culture Point project in Lithuania
Development of storytelling art and method model for Lithuanian libraries
The project aim is to develope a storytelling model and method application for Lithuanian libraries with the help of Swedish and Norwegian partners, testing and mastering it as an educational service for users of all ages and social groups; organizing reflection events on good practice in the partner countries. The projects final congress will be held in October 2022.
From Nordic Storytelling Centre Rose-Marie Lindfors will contribute to the project as an educator and by leading workshops. She's cooperating with Norway representative Tiril Bryn, Fortellerhuset.
Implementing the project
In Nordic countries, storytelling art and method have a long tradition and are intended to be used as a form of contemporary art and as a creative method in various cultural, educational and social contexts. In the cultural field, it is particularly relevant because of the wide range of storytelling applications that can be made by fostering traditions, implementing country reading programs, mobilizing communities and reducing social exclusion.
In Lithuania, the culture of storytelling is just taking shape. This project aims to take over the best Swedish and Norwegian practices in storytelling art and method and to adjust it in public libraries in Northeast Lithuania for work with users. By implementing the project, the libraries of Northeast Lithuania would be ready to carry out a unique educational activity, closely oriented to the cultivation and strengthening of cultural, social and emotional competences of different audiences in Lithuania.
The ongoing process: Five days in September 2021 Storytelling workshops Lithuania
Lecturers Tiril Bryn Fortellerhuset and Rose-Marie Lindfors Nordic Storytelling Centre gave a five day workshop in how to become a Storytelling Librarian and how to create 5 Toolboxes that can be used in Library programs, for different targets groups. Unique programs were created from each group and will be used during the winter, in Librarys in the region Panevėžys in Lituania. In May 2022 participants from Panevėžys will visit Skellefteå and share their experiences.
The first two days contained:
Theoretical knowledge and practical skills in oral storytelling.
Oral Storytelling; as tradition and as contemporary art.
Research and literature, looking at the oral storytelling today in Europe – art/applied/social, networks, areas of focus and educations.
Tools for the story: where to find stories, how to create your own. Construct and adapt story material. Reflect and analyse.
Tools for the storyteller from the competence model "Storytelling in 8 colours".
How to use storytelling techniques and stories as a means/tool to help.
Defining target groups, needs and goals.
Icebrakers, group dynamics and lerningprocess.
The third and fourth day was group work, five groups of Lithuanian librarians (8 persons in each group) used their skills and competences from the first two days, and created five unique storytelling Toolboxes (actually they created 40 unique Storytelling programs each one of them doing it in their own unique way) for application to different groups of library users in Lithuanian libraries and they generated ideas for each program to create storytelling environments/collections.
We gave the following five focus areas for the groups:
1. Traditional folktale that will be told orally – linked to a life story or a memory from the teller. Focus on the oral telling.
2. Traditional folktale to be told outside, in the environment nearby, using nature as a room for storytelling.
3. Create new stories together with the audience using objects, story cards, wool, etc.
4. A traditional folktale told orally, containing rhythms, rhymes, songs or/and instruments.
5. Creating storytelling programs from Silent Books with elements of the tools provided previously.
We gave every participant the help they needed to create their own way of telling the story, by coaching both story and teller. We also make it possible for participants in each group to help each other, to inspire and give positive feedback. To create an atmosphere that was filled with cooperation and the joy of telling and listening.
Day four, in the evening there was a presentation of the 5 Toolboxes, every group could show a peace of their content and tell about how they had planned their Storytelling session.
The last day – day five – the groups sat together creating a guide/manual for the Toolbox, a handbook that is possible to use even for librarians who havn´t participated in the workshop.
A reflection was made during the last hour where we asked them to find a photo that told about their own learning process, to put words on it, and tell everyone about it. A photo and participants words on their journey: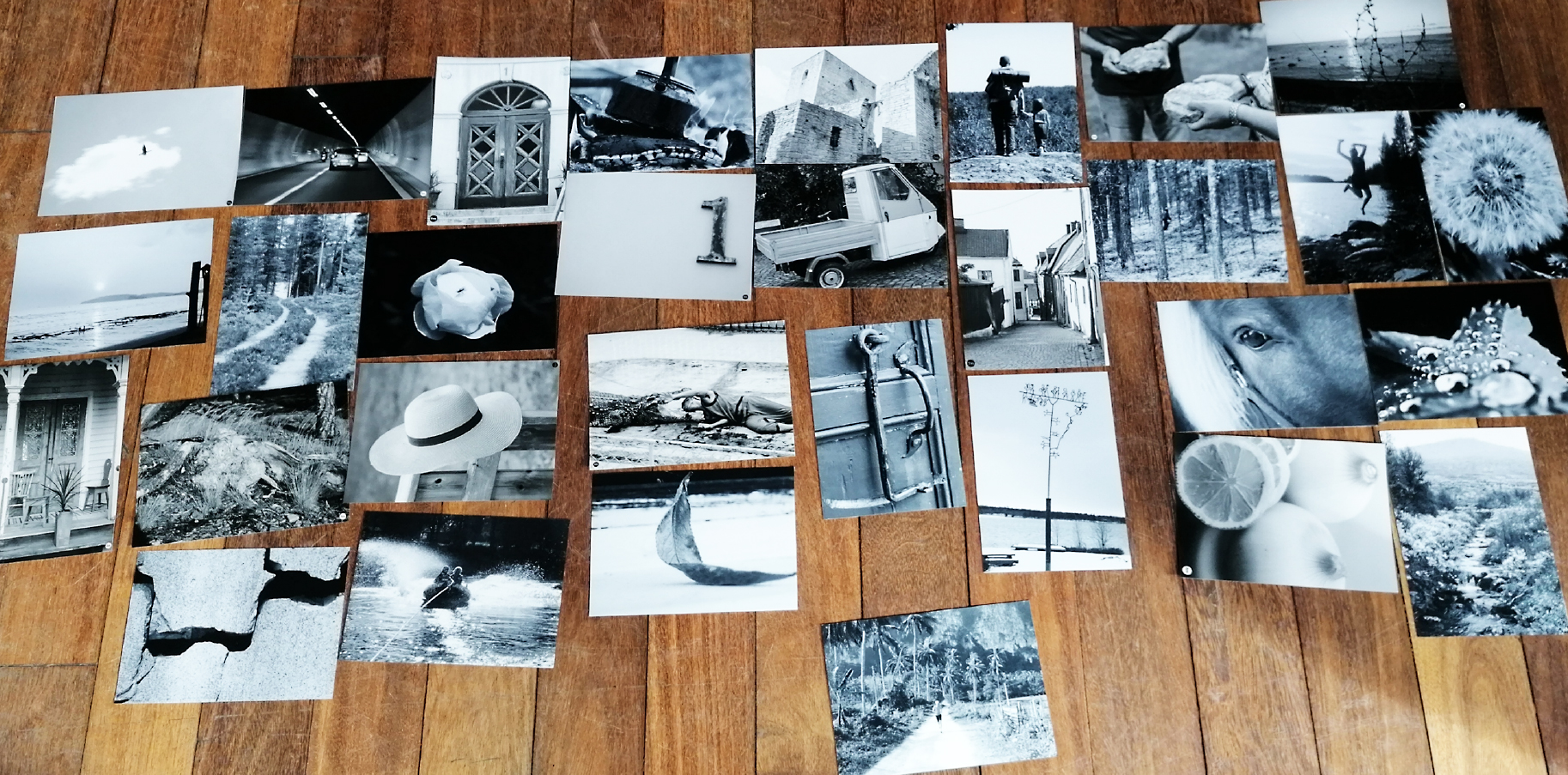 First scarry – now light
Got good help to start a journey. Felt lost but found the best places in the forrest. Great tools for telling. Packed my car, but I see it is too small, I need a bigger one. Have lots of seeds to spread now. My hat and I on adventure, want to start now. Been climbing up the mountain, want to see the top. A crack in the wall, light comes in, this is just as it needs to be. Lots of new ideas. Longing for the first storytelling program. Lots of leaf on my three, feel safe. The horizon is my goal. I am on my way.
I remember all smiles. Thanks for fire and warmth. I am a bird in the sky, I got wings to fly with. I was in a tunnel and I was always late but not now, I have a motorbike. Built a house and found lots of treasures. Great days, we build together. A house is built, I will keep it without a roof, let the sky be visible. I can open my door now. Together. Communication and Context. A big ocean opening place for new horizons. Safe in the place, safe to learn. The possibility to share was for real, authentic. I am the fly and the flower, I can choose what I want to be and do. I jump, you jump, we jump together and dive into the sea.
Learning is like the wind, it goes forward, on and on. Felt lost, but I am not afraid, I can do. Like the horse eye, I am curious, I dare. In the mouth of the crocodile, but I can handle it. An artform worth spreading. I fund a door I needed. As project leader I was supposed to sit beside, but I forgot and was soon a participant, couldn´t help it, loved it.
As a part of the project the mobile exhibition will be introduced in Nordic institutions in Skellefteå (Sweden) in the new cultural centre Sara – one of the worlds highest wooden buildings. The most active Lithuanian librarians (participants of training) participate.  It will take place in May 2022.
/Rose-Marie LIndfors